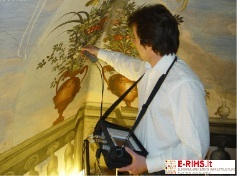 LABORATORY: CNR ISPC
NAME OF THE INSTRUMENT
Scalar network analyzer and a microwave probe; processing software
GENERAL DESCRIPTION
The EFID technique is based on dielectric spectroscopy. The moisture content (MC) of the porous materials constituting a wall (mortar, bricks, stone) is measured by the difference between dielectric contrast of water and dry materials.
TECHNICAL DESCRIPTION
The system uses a scalar network analyzer and a microwave probe, allowing to measure and elaborate in real time the sub-surface MC of a wall, and to detect the presence of soluble salts (Salinity Index, SI) in it.
The system is applied for the seasonal monitoring of walls of artistic interest, mainly frescoes and mural paintings. The low weight of the instrument allows an easy portability also in "difficult" environments such as on scaffoldings.
Data are acquired by a general-purpose notebook computer, with a friendly application running in Microsoft WindowsTM.
Referent
Cristiano Riminesi cristiano.riminesi@cnr.it