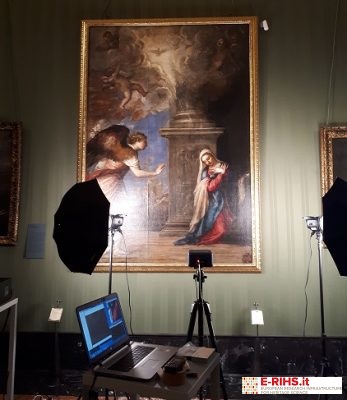 LABORATORIO: SMAArt UNIPG
NAME OF THE INSTRUMENT 
Portable Visible Hyper-Spectral Imaging System (VIS) (Surface Optics SOC710-VP Hyperspectral Imager)
GENERAL DESCRIPTION
Hyper-spectral imaging is based on reflection spectroscopy that allows you to collect both the reflected and emitted light from a suitably illuminated surface, allowing the collection of spectra from every point of the visual field. The obtained cube, which constitutes the hyper-spectral image, contains both the spectra (of reflectance or fluorescence) and the spatial distribution of different materials on the analyzed surface.
The integrated scanning system characterizes this tool which can record the image and spectra directly from a photographic tripod placed in front of the analyzed object, without external moving parts.
The spectral information obtained allows the identification of dyes and pigments by comparison with a database of reflectance and fluorescence spectra collected on the materials used in different historical periods to produce polychrome objects. Furthermore, the hyper-spectral images allow to highlight surface inhomogeneities in the composition, providing a mapping of any areas of degradation and / or restoration interventions carried out in the past and not documented.
Hyper-spectral imaging in the visible region is best used on almost flat works of art such as paintings, manuscripts, drawings, etc., it is completely non-invasive and easily usable in situ directly on the work of art.
TECHNICAL DESCRIPTION
Il sistema di imaging iper-spettrale SOC710 è uno strumento di alta precisione che utilizza un CCD a base di silicio a basso rumore e ad alta velocità di acquisizione come spettrometro di elevata qualità nell'intervallo 400-1000 nm; è caratterizzato da un sistema di scansione integrato, e da un software di raccolta ed analisi dell'immagine. Il SOC710 può registrare immagini iper-spettrali ad una velocità di 4 megabyte di dati al secondo (128 elementi di banda al secondo con risoluzione a 12 bit, 520 pixel per riga, fino a 33 righe al secondo). Al fine di ottenere spettri di riflettanza ben definiti su tutta la gamma spettrale, vengono normalmente utilizzate lampade alogene fotografiche come sorgenti luminose, nonostante lo strumento possa essere utilizzato anche in condizioni di luce ambiente aggiustando opportunamente tempi di esposizione e di integrazione del segnale. Per l'ottenimento delle immagini iper-spettrali in fluorescenza, la superficie esaminata viene illuminata con LEDs monocromatici emittenti a 405 nm ed è richiesta una scarsa o assente illuminazione ambientale.
Referent
Aldo Romani aldo.romani@unipg.it