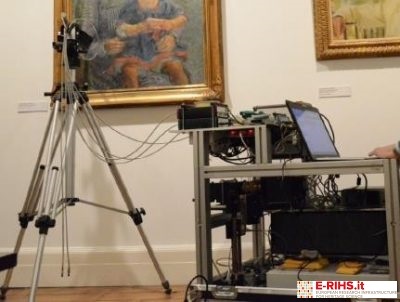 LABORATORIO: SMAArt UNIPG
NAME OF THE INSTRUMENT
Integrated spectroscopic system for Reflectance and UV-VIS-NIR Fluorescence (prototype)
GENERAL DESCRIPTION
UV-VIS-NIR reflectance and fluorescence spectroscopies in situ have become, in recent years, an effective non-invasive technique for the identification of different organic and inorganic materials used in the production of artworks such as paintings, manuscripts, fabrics, etc. For these purposes, fluorescence measurements are particularly suitable for the characterization of organic dyes and luminescent pigments such as, for example, zinc oxide, cadmium-based pigments and Egyptian Blue. Furthermore, different fluorophores with similar emission spectra can sometimes be separated and recognized on the basis of their emission lifetime.
TECHNICAL DESCRIPTION
The portable prototype is composed of several light sources: a compact deuterium-halogen lamp for reflectance measurements; solid state lasers and laser diodes for steady state fluorescence measurements; Pulsed diodes and LEDs for emission lifetimes determination in the ns to ms time range.
The sources are coupled with high-sensitivity CCD spectrometers that work in the UV-VIS-NIR spectral range and which allow to acquire reflectance spectra in the 200-1600 nm spectral range and luminescence spectra in the 300-1600 nm range. Lifetimes can be measured for species emitting in the 350-850 nm spectral range.
A dedicated fiber optic system allows measurements to be performed on any surface with a spatial resolution of less than 2 mm.2.
Referent
Aldo Romani aldo.romani@unipg.it